Serving Up the Harvest: Celebrating the Goodness of Fresh Vegetables
Author: Andrea Chesman
Publisher:

Storey Publishing, LLC

(2007)
For those who follow my food blog,

What Smells So Good?

, it goes without saying that my family and I are big gardeners. Where we excel at organizing, spacing, weeding and digging, we fall short in terms of using our bounty to it's full potential. Those who wait eagerly for the first farmer's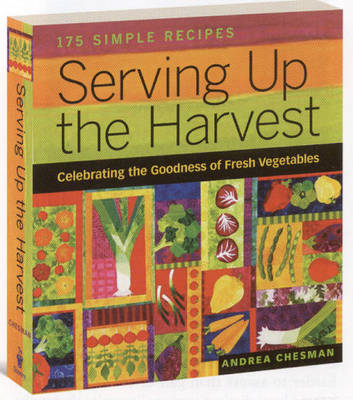 market to open, or the ground to thaw enough to put in those first few seedlings, are often beset by gluts of produce which without proper attention rot and become compost. Thankfully, with the upswing of gardening and local eating's popularity has also resulted in a rise in the number of guides – not for growing the foods, but for eating them. One of these welcome additions to the bookshelf is Andrea Chesman's piece Serving Up the Harvest: Celebrating the Goodness of Fresh Vegetables, a 512-page guide to almost everything veggie-lovers need (or want) to know.
Chesman takes a thoroughly seasonal approach to the inclusions in Harvest, using not simply the four "standard" quadrants of the year but the transitional periods – Spring into Summer, Early to Mid-Summer, Mid- to Late Summer, and Fall into Winter – to organize the crops by "readiness". Within each chapter readers will find produce in alphabetical order, from more commonly available vegetables like carrots (p.360) and zucchini (p. 168) to fairly obscure Jerusalem artichokes (p. 386) and fennel (p. 258). Even the ugly celery root (p. 202) and much maligned okra (p. 266) find a place in Harvest, with recipes that will entice even the strongest skeptic to look for them on their next grocery run. A piece titled "Height of the Season" completes each season, a veritable menu of recipes that make use of prime combinations from that period. Chesman opens each individual crop's section with a quick reference page, featuring information on seeding and harvesting, preparation techniques, cook times and nutrition. The most beneficial inclusion on this page is arguably the "math" – or equivalency – of volume to weight to actual units of vegetable – helping any cook to convert recipes based on what they have on hand regardless of owning a scale. Mouthwatering recipes follow, from simple "Roasted Brussels Sprouts" (p. 343) to a gourmet, Gruyere-laden "Roasted Leek Tart" (p. 408) and the unusual but delicious "Zapplesauce" (p.182).

Thanks to the four "Well-Stocked Pantry" pages making up the first chapter, no recipe is made unapproachable, even for everyday "home" cooks who don't grow their own.
Chesman even manages to address the most basic of cooking methods in Harvest, along with "Master Recipes" for gratinée, roasted, sautéed, grilled, stir-fried, tempura and various noodle applications for the vegetables to follow.

For the tail end of the growing year, when gardeners are most often beset by too much of a bounty, a handy guide to "Preserving the Harvest" (p. 473) includes pointers on drying, canning, freezing and cold-storing. All the recipes are enclosed at the end of the book in a vast index, along with a resource guide and supplier list. I only wish that an index of the types of recipes was also included in Harvest's pages, as it would make it that much easier to embrace the seasonal wealth.
Harvest is also a compilation of personal stories from Chesman and those she admires. Far from being a textbook, her non-recipe articles include a piece on "Plant a Row for the Hungry" (also called "Grow a Row, Give a Row") (p. 280), the use of a home garden as a dating tool (p. 390) and a Massachusetts's CSA as a produce source for both paying consumers and the local Food Bank (p. 74). For those who never gave gardens a second thought, these tales are inspiring, and for seasoned green thumbs will re-ignite the passion that started their hobby.
It shows in Serving Up the Harvest: Celebrating the Goodness of Fresh Vegetables that Andrea Chesman is undoubtedly a mistress of both garden and writing. Her thorough, creative and engaging exposure to the delights of gardening is more than welcome in a world with a struggling economy. Her equally varied and useful approach to choosing and enjoying the fruits of your land and labour is the gateway to a way of eating that any and everyone should embrace: more produce, more often, in any way possible.
Available on Amazon